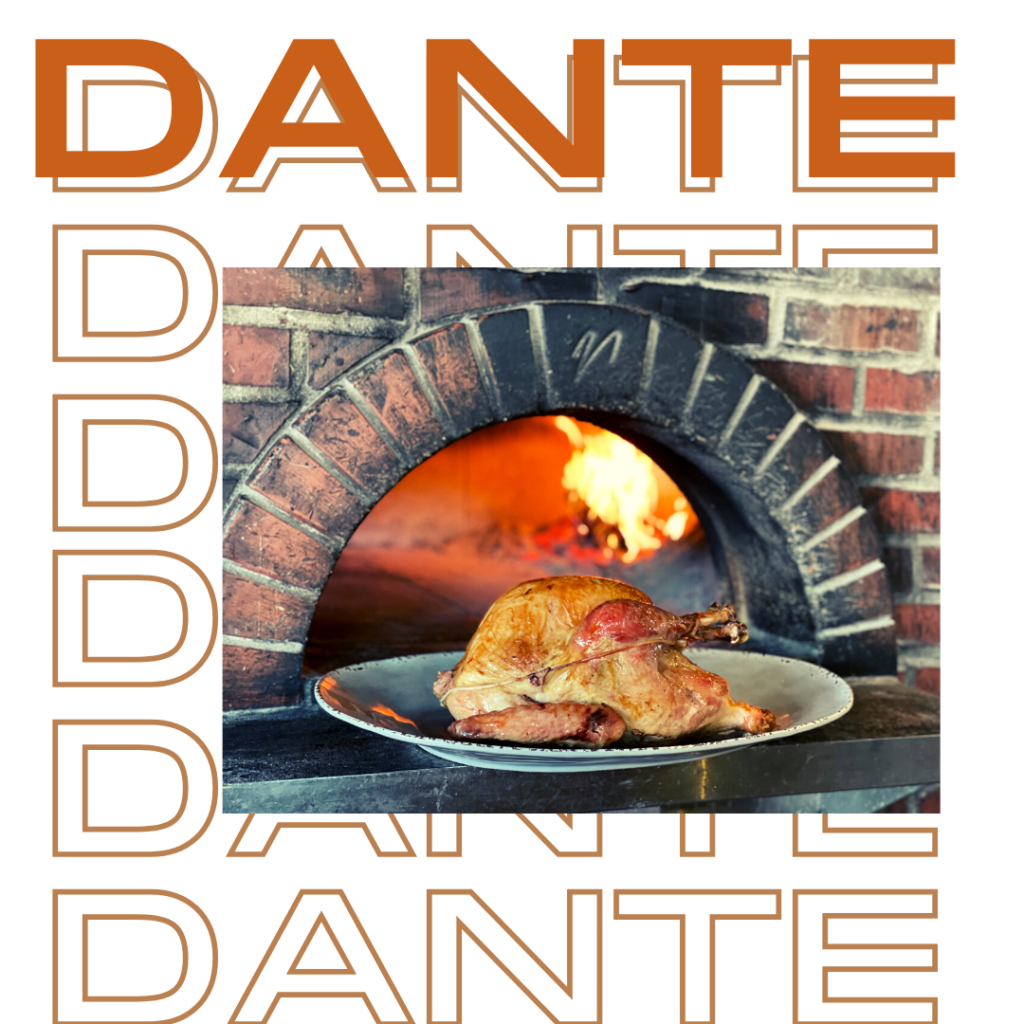 Let Dante do the cooking this Thanksgiving with an easy to reheat Turkey, five delicious sides and dessert. The Dante Feast is recommended for four people and includes:

1/2 Nebraska Wood-Roasted Turkey
Thanksgiving Focaccia Stuffing
Green Bean Casserole w/ Cipollini
Roasted Garlic & Olive Oil Mashed Potatoes w/ Turkey Gravy
Cranberry Sauce w/ Lambrusco, Orange & Fall Spices
Dinner Rolls
Pumpkin Pie Gelato

Bring the Dante Thanksgiving Feast home for $149 (plus tax). The meal can be doubled or quadrupled depending on the amount of guests, as the suggested serving size of four is a rough estimate based on portions provided. You will receive 4 rolls, and each side and dessert is a quart in size, except the gravy, which is a 1/2 quart. All the items will be easy to reheat (instructions provided) and packaged in individual containers. No substitutions.

Orders must be placed by Friday, November 19th and pick up is Wednesday, November 24th between 1-4pm.

Order Thanksgiving TO GO now
Don't forget the wine! Sommelier Adam Weber paired some amazing wines, so grab a bottle or two!
Surrau Vermentino di Gallura, 2019 Sardinia  $27.00 
* Only DOCG level vermentino in all of Italy.  This wine has lively acidity, full and lush mouth feel, with hints of lemon and vanilla.  This wine is absolutely balanced and perfect for this season.  This is the perfect thanksgiving wine.

Masseria Li Veli Primitivo 2019, Puglia $27 
* The perfect wine for your ham, turkey or beef.  Notes of jam and black pepper.  Balanced acidity to tannin.  Li Veli is one of the most influential producers in all of Puglia, dating back to the end of the 19th century. 

Cantine Povero Barbera d'Asti 2018 $18 
* This fruit forward Barbera is reminiscent of a Boujalias.  Lively on the palate with great red fruits, notes of fresh cut rose and lively acidity.  Cantine Povero is a young producer, established in 1964, with a huge commitment to organic and sustainable farming practices.