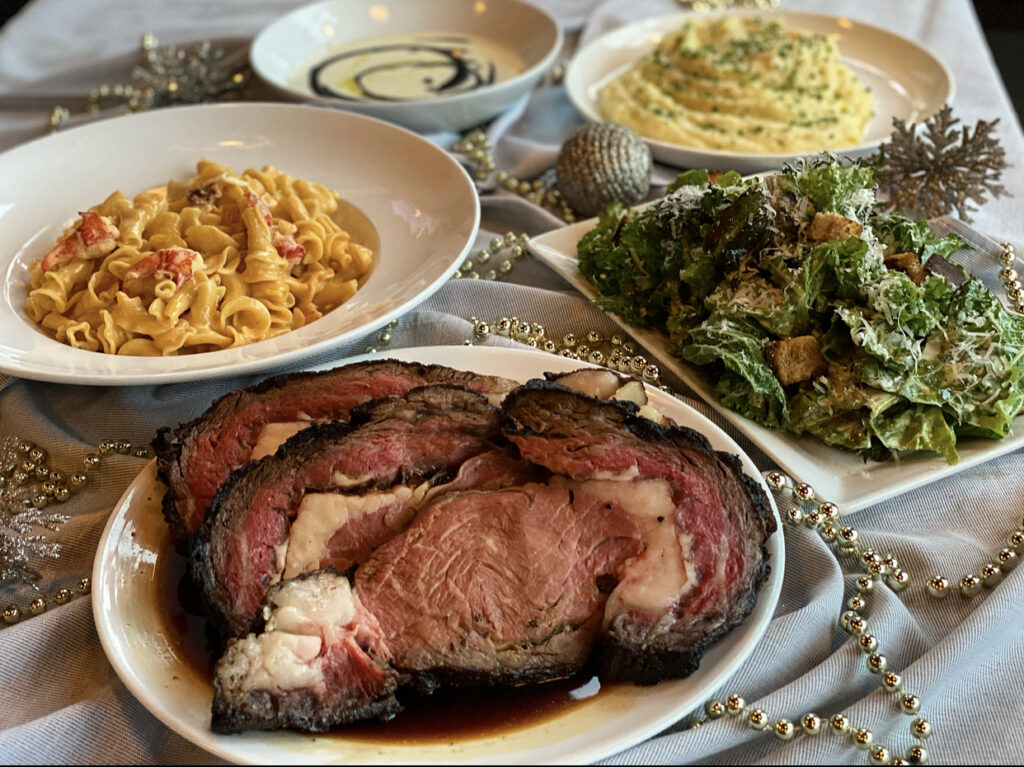 Relax and let Dante do the hard work! Each Dante Christmas Feast feeds four and includes an easy to reheat Prime Rib, five delicious sides, and dessert. Sommelier Paul Foss also has some excellent wine recommendations (scroll down) that pair perfectly with this incredible meal. The Dante Christmas Feast (pictured) includes:
40 oz of Sliced Prime-Rib w/ Natural Jus, Roasted & Cut
Roasted Garlic Mashed Potatoes
Lobster Mac & Cheese w/ Maine lobster
Caesar Salad
Celery Root Soup w/ Truffle Vinaigrette
Dinner Rolls
Candy Cane Gelato
Bring the Dante Christmas Feast home for $199 (plus tax). The meal can be doubled or quadrupled depending on the amount of guests, as the suggested serving size of four is a rough estimate based on the portions provided.
The Prime Rib will come pre-cooked and pre-sliced (4 slices), but will need to be heated. The lobster mac and potatoes are 1.5 quarts, and the pasta for the mac and cheese will need to be cooked (easy to follow instructions provided). The gelato and soup are each 1 quart, 4 dinner rolls are provided, and the Caesar salad just needs to be dressed before serving (everything included). All the items will be easy to reheat and packaged in individual containers with instructions. We also have some incredible wine pairings chosen by Dante Sommelier Paul Foss, see below.
The Christmas Feast is available to order until Friday, December 18th at 3pm and will be available for pick up December 23rd between 11:00 – 3:00pm.
Ordering steps:
Step 2: An Invoice to be paid online, will be emailed within 48 hours of signing up. The invoice will be emailed from PayPal with subject and sender of "Dante in Dundee" and can be paid via a credit card. If you prefer another form of payment, please indicate on initial online order form