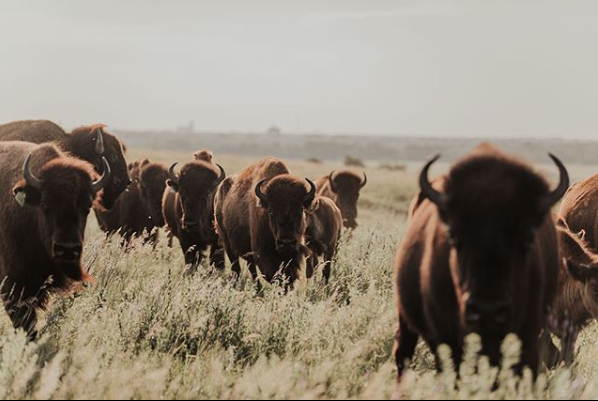 The Prarie's of Nebraska are home to Bison and they are as ubiquitous with the midwest as steak, yet Bison aren't consumed nearly as much and the meat be hard to find in stores. Chef Nick Strawhecker was given some Bison when a friend brought some back from a hunting trip, fell in love with the meat and then was serendipitously introduced to a local family who raises Bison by Drew Statz, former Chef at Monarch. As we transition into colder weather, we thought it was the perfect time to highlight one of our producers and have them and their produce be the focus of our October Wine Dinner.

Welcome to our October Wine Dinner featuring
Central Nebraska Buffalo & Valpolicella Wine:
Four courses: Three savory Bison dishes, one sweet course
Four wines: four delicious Valpolicella reds from Veneto (see below)
fried bison rillettes, bison tartare w/ artichoke condimento & black truffle & parmesan sformato paired w/ Lenotti Valpolicella Classico
bison agnolotti w/ coco pasta, trumpet mushroom & raw celery w/ Marchesi Biscardo Valpolicella Ripasso Superiore
wood-roasted bison tri-tip w/ butternut squash, roasted apple & kale w/ Castellani Michele & Figli Amarone della Valpolicella Classico 'Colle Cristi'Amarone
ricotta & honey panna cotta w/ chocolate biscotti w/ Cà La Bionda "Le Tordare" Recioto della Valpolicella Classico Recioto
$110 per guest not including tax and gratuity
To make your reservation, send us an email or call 402.932.3078
Sommelier Paul Foss's Wine selections for the evening and thoughts:
Course One:  Lenotti Valpolicella Classico is the first wine in a series of steps.  Valpolicella wines are unique in that they are connected to each other. A blend of three red grapes, Corvina (60%), Rondinella (35%) and Molinara (5%).  Grown in the Classic area of Valpolicella north of Verona.  A bold and youthful wine tasting of ripe red fruit, nicely dry, full-bodied and velvety.

Course Two: Marchesi Biscardo Valpolicella Ripasso Superiore. Friend of the House, Nicola Biscardo was born in Verona to a family of winemakers in 1972. Nicola has visited us at Dante several times, capturing the hearts of our guests with his charm and amazing wines. Ripasso is a very old and traditional process used to give to the Valpolicella wine richness and body. After the Valpolicella is fermented in the usual way, it is placed in barrels containing the skins of the Amarone, a concentrated wine made using semi-dried grapes. This process can last from 2 to 3 weeks, adds color, tannins, and complex flavors. The meaning of the word ripasso in fact means Re-Pass or passed twice, just because the wine passes over the skins and the leases of the bigger and more complex brother called Amarone. Thelegend says that this technique has been developed in the middle age by the poor farmers that could not afford to buy the big and expensive Amarone Wine, therefore they were stealing the skins of the Amarone from the land owners to mix them with their little and lousy wines and obtain something close to what the aristocracy was drinking! The Superiore designation means a minimum of 12.5% ABV and 14 months of aging. An elegant and complex wine, balancing ripe and raisinated fruits. Full-bodied and soft, with lovely velvety tannins and a long finish.

Course Three: Castellani Michele & Figli Amarone della Valpolicella Classico 'Colle Cristi'Amarone is the crown jewel of wine hailing from Valpolicella. A blend of red grapes Corvina Veronese and Corvinone 70%, Rondinella 25%, Molinara 5%. After harvest the grapes are dried for 3 to 4 months. The drying process dehydrates the grapes and concentrates the sugars. The extra sugar fuels a very long maceration (over 40 days) allowing the wine to reach a high alcohol content (16%!!!) and unparalleled smoothness. Resting in oak for at least 3 years before release mellows and refines the tannis. Violet, mature dark-fruit and cooking-spice aromas lead the nose. The dense concentrated palate offers raisin, raspberry jam, cinnamon and cocoa alongside smooth, velvety tannins. The classico designation means all the fruit in this wine is picked from a single vineyard, Cà del Pipa is the name of this vineyard.

Course Four:   Cà La Bionda "Le Tordare" Recioto della Valpolicella Classico Recioto is the rarest style of wine from Valpolicella.  This dessert wine is made with the same red grapes that make up Amarone. Following harvest the grapes used to make this sweet wine are left to dry on special cane tables known as "Arelle" until the end of March or mid April. This drying process creates dried grapes with an extremely high sugar content.  Sweet, rich, but not cloying.  Decadent dried fruits of figs and dante, and dark chocolate tones.