This article was written and published for Omaha Magazine. We thank them for profiling the announcement and we look forward to a delicious future!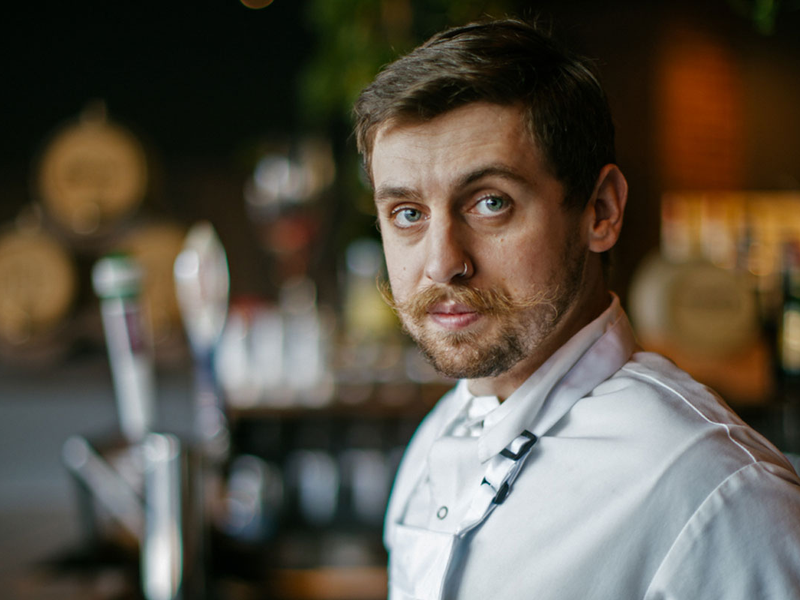 When the pandemic hit Omaha's culinary industry in 2020, and several restaurants shuttered their doors, Drew Statz thought his dream of running his own kitchen was a casualty, too. But Statz got a second chance, taking over as executive chef at Dante Pizzeria in December.
Before running the kitchen at Dante, Statz realized his dream of becoming an executive chef at Monarch Prime and Bar inside Omaha's Hotel Deco. Beginning as a line cook, he was part of the restaurant's opening team in October 2017. Following a stint as sous chef, Statz was promoted to executive chef in early 2019. Then 2020 came along, and the pandemic shut things down in March.
While at Monarch, initial news of the pandemic didn't faze the kitchen staff. They thought it would pass quickly, Statz said. When South by Southwest in Austin, Texas, announced its cancellation, that raised a little caution, he said.
"We thought it would be like the swine flu," Statz said. "Then Berkshire-Hathaway canceled [its annual convention in Omaha]. The hotel took a huge hit, but we were still alright. But when they called [off] the College World Series, I thought, 'That's it.'"
Known for its dry-aging process, Monarch typically ages steaks for up to 45 days. While he was there, Statz said, "We'd push the limits on how long you could go, sometimes up to 200 days," he said.
When they closed because of the pandemic, with plans to reopen when the situation allows for safe dining, Statz weighed his options. He and his wife, Michelle, were close to buying a house in Fremont, Nebraska, but he knew he needed a job before a bank would approve their loan. So, he took a job with The Meat Hook, a butchery in Polk, Nebraska, about a 90-minute drive from Fremont. For nearly a month, they stayed with Michelle's parents in Albion to lessen the drive time.
Roughly a month into the job, they were approved for their new home and returned to Fremont.
"We were going to be 'farmers market' farmers," Statz said. But then area farmers markets didn't have the business they usually did during the summer because of COVID-19.
Looking for anything in the restaurant industry, he worked as a line cook at Dante in June. About a month later, he was offered an opportunity to manage the kitchen at Alto Kitchen and Bar, a new fine-dining eatery in Fremont.
After helping to open Alto in July, Statz didn't feel like the restaurant and he were a good fit, so he left in September.
His first call was to Nick Strawhecker at Dante, to see if he could pick up some hours while he looked for a permanent position.
"We offered him a line cook position," Strawhecker said. "But he was overqualified."
Strawhecker, 41, knew he needed to create a position to keep Statz at the West Omaha restaurant.
"I don't remember knowing a guy or woman with the ambition and excitement at his age," Strawhecker said.
At 29, Statz has been working in the culinary industry for nearly half his life, beginning in kitchens when he was 15 or 16.
"I've done just about everything you can do—washing dishes, busing tables," he said.
So, when Strawhecker sat down with him to discuss the future, Statz said he knew he needed to be bold about his goals, because he wanted a future in Italian cuisine.
"He asked me, 'What do I have to do to get you to stop looking for other jobs?'" Statz said.
After the two finished their conversation, Statz was promoted to executive chef, taking over a role previously held by Strawhecker.
"Coming from Monarch, I knew he had the organization and communication skills an executive chef needs," Strawhecker said. "He won't change Dante. He'll keep the ethos and grow it."
The restaurant lost its general manager during the fall, and Strawhecker chose not to fill it, taking on some of the responsibilities himself. Statz's promotion allowed him to step back from managing the kitchen full-time.
Statz's promotion helps them focus on Dante's future, Strawhecker said.
"The industry is being rewritten," he added. "We don't know what's going to happen [post-pandemic]. Who knows who will fall next? Sadly, some will. I want to keep us what we are. And keep it growing."
While Statz plans to grow in his role as Dante's executive chef, he appreciates the support the staff immediately gave with the promotion.
"A lot of times, these kinds of promotions come from within," he said. "Usually, you have a guy who's been there for a while and has worked his way up the ladder. I didn't want to take someone's job. We sat down and discussed it with the team, and everyone was on board with this."
Statz, who attended culinary school for a year at Metropolitan Community College—with dreams of working in Italy afterward—has achieved his dream of creating Italian cuisine.
Strawhecker said they hope to travel to Italy in 2021, so Statz can experience the food firsthand.
Visit dantepizzeria.com for more information.
This article was printed in the March/April 2021 edition of Omaha Magazine. To receive the magazine, click here to subscribe.