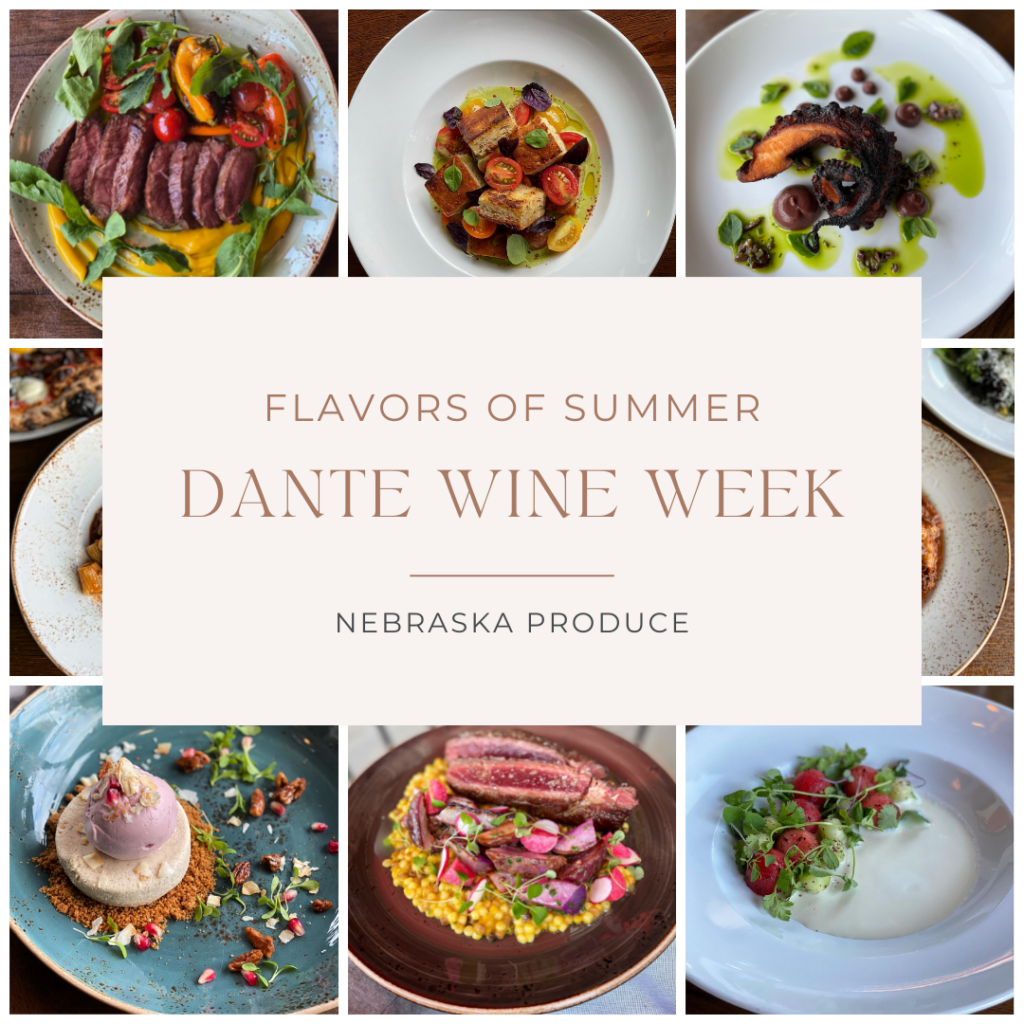 We have been keeping a secret and we can not wait to tell you what we've been working on! We took the wine events you love at Dante, wine school and our monthly wine dinners, and reimagined to make them a complete collective experience. It's what we are now calling DANTE WINE WEEK!
Dante Wine Week is an ongoing event that will be held the last week of every month and includes three different events, all focusing on the theme of the month and never overlapping wine. You will be able to attend all three events and learn, taste and enjoy something new every time.
Dante Wine Week Details: During Dante Wine Week you can first attend Dante Wine School where you will take a deep dive into the monthly theme. You will learn about the selected wines from top to bottom, while sampling, snacking and enjoying yourself. On the last Wednesday of every month is our monthly Wine Dinner, where you can sit back, relax and enjoy a complete dining experience. You will never taste the same wines twice, BUT you will have already learned about the region or varietal and it's a chance to apply your newfound wine knowledge. Finally, on the last Sunday of every month we will have a Try Before You Buy event where you get to taste dozens of wine and see what you enjoy. All wines at this event are sold at deeply discounted from retail prices. Scroll down for a sneak peak of Dante Wine Week.
Dante Wine Week Schedule:
Wine Dinner: last Wednesday of the month
five courses & five pours
Dante Wine School: Saturday before wine dinner
at least five pours with immersive knowledge of the particular wines
Try Before You Buy: last Sunday of the month
try dozens of wine and purchase at deeply discounted from retail prices
We will release our monthly theme at the beginning of every month and want you to be able to attend all three events to learn, taste and enjoy in a whole new immersive way, with Dante Wine Week! We've taken the events you love to the next level.
July Events:

We love the sights, sounds and tastes of summer! Nebraska produce is so abundant, beautiful and delicious, and we can't wait to play with the colors and the flavors of the season. At our Summer Produce Wine Dinner, on Wednesday, July 27th, we will showcase the bounty of our local Nebraska farmers along with local protein. While menu details are TBD, we know we will feature gorgeous produce & protein, handmade pasta and incredible wine (the hail storm a month ago wiped out farmers we work with, and we're in a bit of unknown territory regarding supply availability).
Adam is so excited to showcase his favorite summer Italian Wines and he didn't pick just one, he is showcasing five! And lets just say, they will not disappoint! If you have experienced our wine dinners before, this one will be over the top. If you've never been, this is your sign to attend! Enjoy five courses – Four Savory Dishes & One Dessert – and five pours, $150 per person. Reservations are available any time between 5:30 and 8:00 via OpenTable or by contacting Dante at 402.932.3078.

Dante is lucky to have Adam Weber as our General Manager, who is a level 1 Sommelier and a certified Italian Wine Professional – the only one in the state! He truly knows Italian wine and is the best person to lead you down the path of Italian Wine knowledge. What a better journey than tasting and learning about Adam's favorite Italian wine for summer at our Summer Favorites Wine School! You may walk in a red only drinker and walk out a Rose lover – his wine recommendations are that good! Our Saturday afternoon wine school's are fun, lively, full of knowledge, but most importantly, full of delicious wine!
Join us Saturday, July 23rd at 2pm to discover Adam's favorite wines for the summer months. He will showcase his top 10 Italian wines that you should be drinking during the season and will tell stories of the producers, the wines and tales of travel. Reserve using link below.

What is "Try Before You Buy?" It means you have the ability, unlike when you're standing at the grocery store wine wall, to actually try the wine so you can buy what you love. We've all experienced the disappoint of a wine purchase, and we strive to eliminate that. This event is like speed dating, but for wine. Try them all and buy what you like.
We ask all the local wine distributors to bring their favorite wines and you get to drink them – all of them. At our last Try Before You Buy event, we had over 50 wines, and let's just say, everyone had a very enjoyable afternoon AND ordered some delicious bottles for far below retail pricing. Whether you want to buy a bottle or stock your cellar, this event is for you. Join us Sunday, July 31st between 12-4pm at this drop in style event. Tickets are only $25 and include wine and snacks and education from Omaha's top wine professions. You don't want to miss it!
Loved the sneak peek of Dante Wine Week? Give our friends who produced this video YumOmaha a follow as they showcase all things delicious in Omaha. We enjoy their posts as they are well written and beautifully photographed.