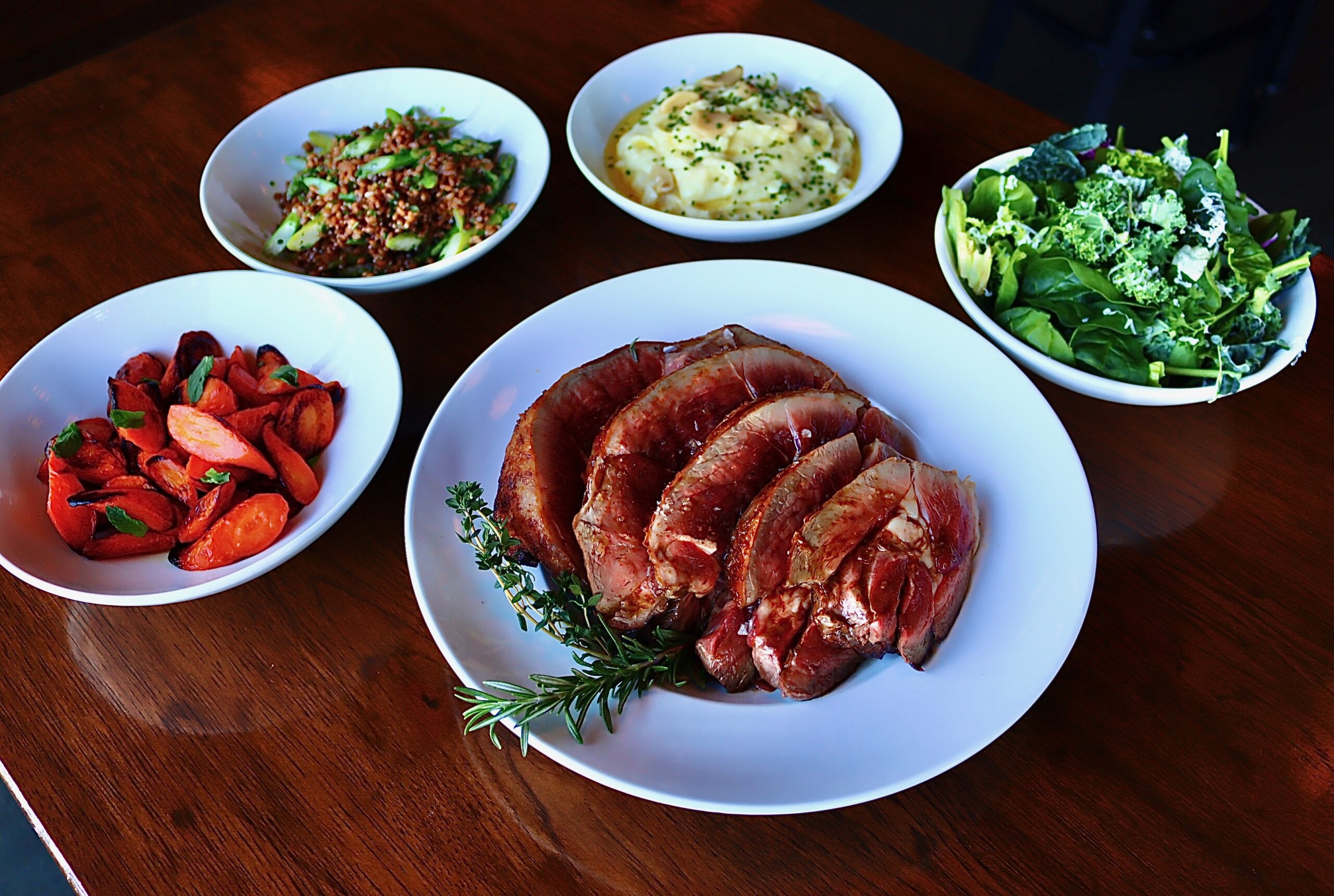 Each Dante Easter Feast feeds four and includes an easy to reheat Easter Ham, four delicious sides and dessert. Sommelier Paul Foss also has some excellent wine recommendations (scroll down) that pair perfectly with this incredible meal. The Dante Easter Feast (pictured) includes:

Choice of Protein:
1.5 pounds of Wood-Roasted Colorado Lamb Shoulder *SOLD OUT*
1.5 pounds of Easter Ham (not pictured)

Each Feast Includes:
Olive oil & Potato Puree w/ Roasted Garlic
Asparagus & Wheatberries w/ Lemon & Yogurt 
Chopped Salad w/ Farm Greens, Hard Egg, Bacon, Radish & Crouton w/ Dill & Buttermilk Dressing
Wood-Roasted Honey Glazed Carrots w/ Mint
Mint & Chocolate Gelato

Bring the Dante Easter Feast home for $95 (plus tax). The meal can be doubled or quadrupled depending on the amount of guests, as the suggested serving size of four is a rough estimate based on the portions provided.

The entire feast will be on the table in less than 30 minutes, as only three dishes need to be reheated (instructions provided). The Lamb & Ham will come pre-cooked and pre-sliced, the carrots and potatoes are 1 quart each and all three items only need to be reheated. The asparagus will be served chilled along with the gelato and each is 1 quart. Finally, the chopped salad just needs to be dressed before serving (everything included). All the items will be easy to reheat and packaged in individual containers with instructions. We also have great wine pairings chosen by Dante Sommelier Paul Foss, listed below.

The Easter Feast is available to order until we sell out (order links will be inactive once sold out) or at noon on Thursday 4/01. Pick up Saturday, April 3rd between 3-4pm and Easter morning, April 4th between 11:00am – 12:30pm.

CLICK HERE TO PLACE YOUR ORDER

Pick up times are limited and available on a first come, first serve basis. An invoice, to be paid online, will be emailed within 48 hours of filling out the order form. The invoice will be emailed from PayPal with a subject and sender of "Dante in Dundee." Invoices can be via credit card online and your order is not confirmed until payment is complete.