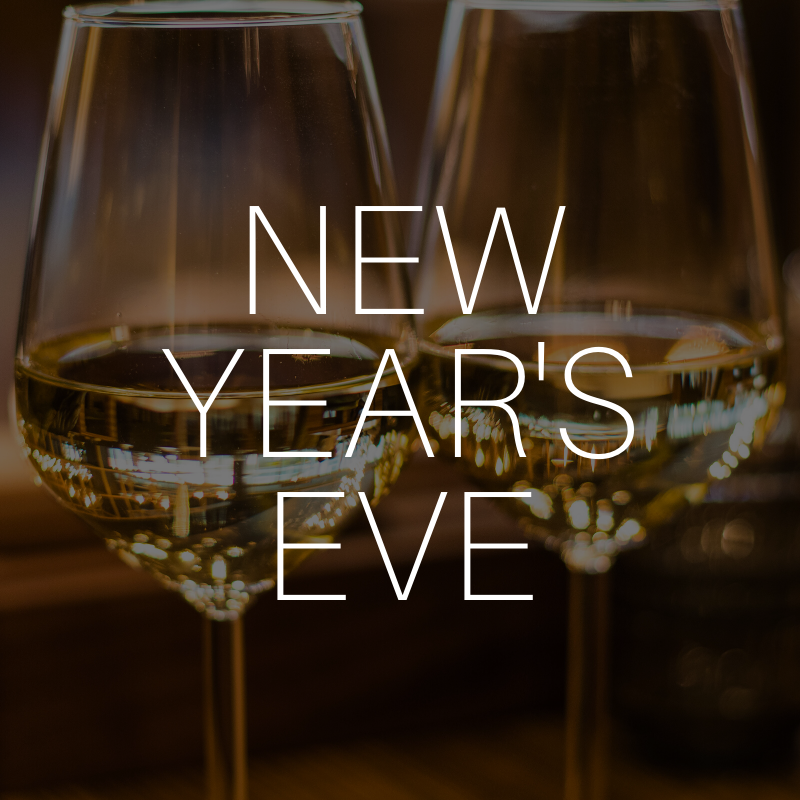 Join us for dine-in or carry-out on New Years Eve!
DINE-IN:
Enjoy an incredible five course prix fixe meal:
-beef rilette, horseradish granita & crisp onion
-langostine risotto & calabrian chili
-duck ravioli w/ wood-roasted mushroom & foie gras sauce
-wood-roasted beef filet w/ amarena cherry, beets & crisp kale
-chocolate & raspberry
Our Prix Fixe Menu is $110 per person. Add wine pairings for $40.
Our regular menu will also be available with some delicious additions:
Wood-Roasted Lamb, Alaskan Black Cod, Nebraska Beef Filet, Wood-Roasted Scallops, Oysters & Caviar
Carry-Out:
don't cook, dine with us, at Home:
Two 7oz Wood-Roasted Filets
2/3 qt of lobster risotto
1 pint of roasted brussels sprouts
One pint of Chocolate Budino w/ raspberries & whip
The carry-out meal is designed for two people, $95 per menu. Your carry-out order must be placed by 12/26 3:00, pickup on NYE between 4:00 – 5:00pm.
DON'T FORGET THE WINE!
Sparkling: Vignaioli del Morellino di Scansano Sparkling Vermentino
A dry sparkling wine made from Vermentino and a little bit of Chardonnay.  The warm Tuscan climate gives these grapes their weight and aromatic complexity.  Crisp acidity, bright bubbles, notes of green apples, mandrin oranges, and fragrant white flowers.  An exciting alternative to Prosecco!  $26.00

Sparkling: 2014 Monzio Compagnoni Franciacorta Brut Franciacorta is a high-quality sparkling wine modeled very much in the image of Champagne.  Made from Chardonnay and Pinot Noir (the two main grapes of Champagne) in the Méthode Champenoise.  This traditional method produces a sparkling wine with complexity and elegance.  On the nose, yellow flowers and soft butter.  The palette lights up with lemon zest, honeyed fruits, and a touch of brioche.  Discrete and refined bubbles, that will please lovers of Champagne and bubbly wine!
  $34.00

Orange: Calcarius Orange Puglia – Perhaps the most fun and unique bottle of wine on our list.  An orange wine made from the white grape Falanghina grown in Puglia, the heel of the boot on the Italian peninsula. This natural wine spends extra time sitting on the grape skins, imparting a beautiful orange hue. Combining the body and dryness of a rose and elegance of robust white, creating a style that drinks unlike anything else.  Imagine an adult Orange Julius, also it is a big bottle that comes as a Liter! $36   

White: 2017 Terre Nere Etna Bianco 'Calderara Sottana' –
Etna Bianco is a white wine produced from the grape Carricante.  The varietal is native to the island of Sicily and grows in the volcanic soil on the slopes of Mt. Etna.  These black soils give the wine an incredibly distinct minerality that's crisp, clean, and refreshing as the sea breeze.  These grapes are grown and harvested from the single vineyard Cru named Calderara Sottana.    $48.00

Red: 2015 Castellani Michele Valpolicella Ripasso Superiore – A bold and powerful wine hailing from the Veneto in North easten Italy, just outside the city of Milan growing in the rolling foothills around Lake Garda.  The wine is the result of a secondary fermentation by pouring new wine over Amarone grape skins.  Dark red fruits and cherries, tobacco leaves and stewed jammy fruits.  Sure to please lovers of Cabernet Sauvignon and Zinfandel with it's rich body and elegant tannins.   $42.00

Red: 2013 Raineri Barolo – Barolo is the king of wines, and the wine of Kings.  Famous for its power, structure, and robust tannins, perhaps the most prized red wine in all of Italy.  These grapes are grown in the commune of Serralunga, with sandy soils that produce Nebbiolo of exquisite tannis and power.  Ripe red fruit, dried rose petals, and subtle earth.  A wine that can match any dish, but is also enjoyable in good company.   $62.00